Artificial intelligence – AI – has a clear mission: it must continuously optimize business value and contribute financially measurable value to the success of a company – including products, customer channels and company functions such as support and sales. At the same time, the user expects emotional intelligence and the ability to be empathetic. And all this should be under the protective umbrella of the GDPR.
Does not exist, do you say? Maybe there is! And all this also Made in Germany!
Our service bots are connected to your customer channel as filters. Whether social media channel, direct email communication or inquiries via a marketplace. There, the service bots perform their defined task by intercepting the background noise of standard requests that block your communication channels.
Give your support more time for relevant requests!
Our e-commerce bots are designed for flexible handling of mass product data such as prices, product features and product characteristics. They act as an intelligent product search engine within your website or shop. Where else can you get custom-fit products returned on the following request:
"I am looking for red leather sneakers in size 40 for my wife from Nike up to max. 100€".
Tired of clumsy chatbots that jump at you as soon as you visit the website? So do we! We'll introduce you to our approach of a website that uses artificial intelligence to give users a whole new surfing experience. Artificial intelligence and website merge into one. Guided Web combines the best of AI, personalization and website.
Guided Web is the website!
So that you know where you stand with us…
agileGravity was born from the desire to offer customers pragmatic solutions in new ways. We build AI products as an interface between companies and customers. Our AI controls business processes and automates processes based on customer input. And if you like, then it can be personalized and individual for each customer in a different way.
With artificial intelligence for more focus on the essentials…
No matter how we turn it around: AI is on the rise. We at agileGravity have decided to play an active role in shaping this progress in order to influence the result.
Whether you use AI-supported chatbots in customer service to manage the flood of contact requests, to enable support staff to focus on the high quality requests. Or you can use AI to provide a better and more relevant surfing experience for the users of your website or shop. The result is the same: faster retrieval of the desired information, faster resolution of the customer problem. An intelligent combination of content and product leads to significantly improved customer satisfaction. This is a key advantage that will set you apart from the competition at an early stage.
Why is it advisable to start early? Because working with artificial intelligence takes time. The bot must be trained and cared for. The real work only starts when your bot is set up, all interfaces are connected and the bot is integrated into your company. Forget Plug & Play: this is a myth that has never seriously worked in software projects before. The artificial intelligence will take over dedicated tasks step by step. But that's a path we're going down together. The bot has to be "trained", and that simply takes time. There is no canned intelligence – at least not today.
Guided Web – Chatbot 2.0 – the iPhone of the bots
Guided Web combines the best of chatbots, personalization and mobile website. Guided Web is passive in the background until it is found by the user. Guided Web creates an unprecedented user experience: Guided Web is the website.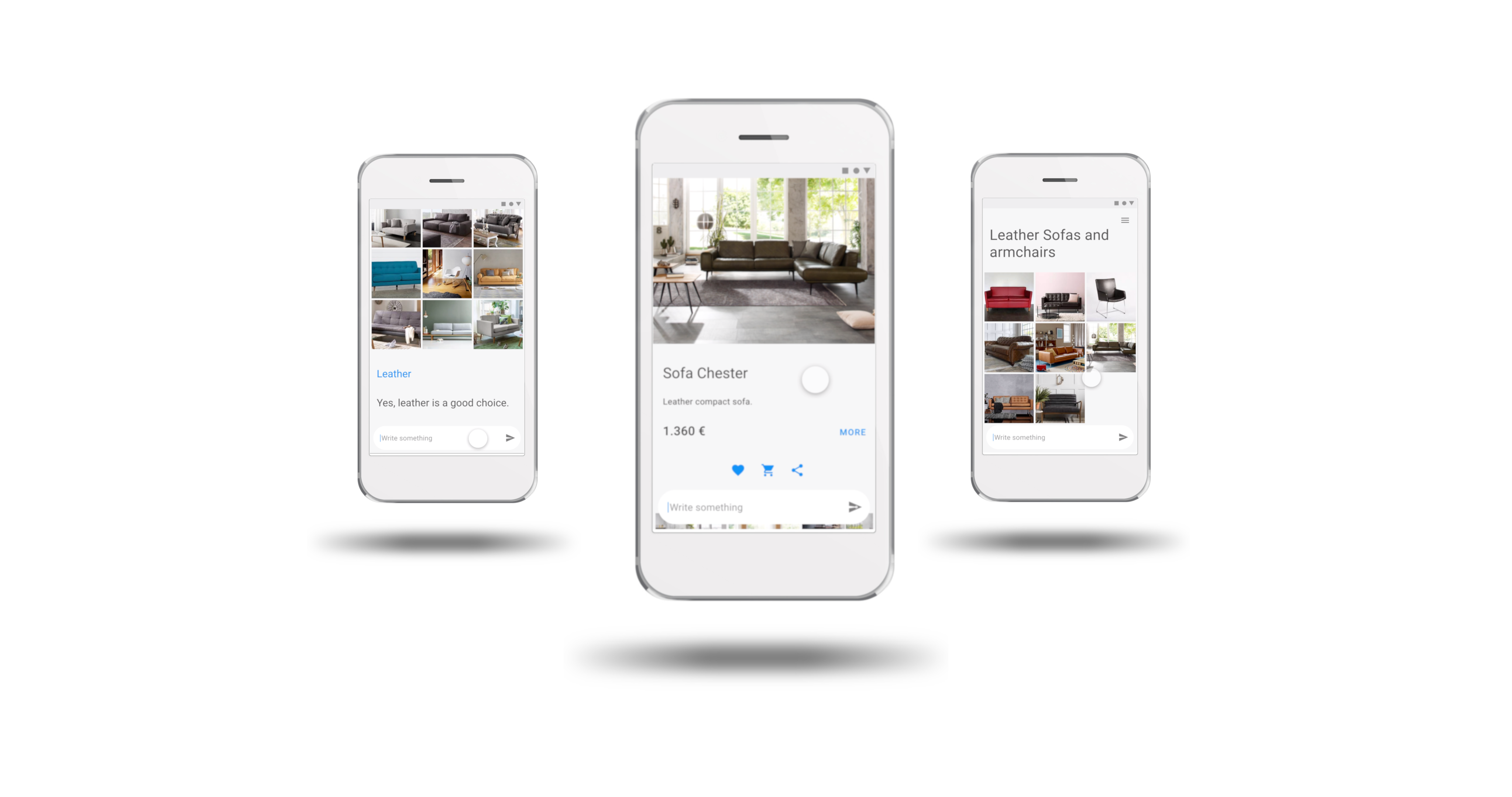 1
the bot is completely integrated into the page
2
Standard navigation elements are still available.
3
Navigation via voice or keyboard input
Guided Web is our approach to integrate a chatbot into a dynamic mobile website. There is no longer a fixed conversation tree in which all nodes have to be connected. Guided Web jumps dynamically between the processes and provides the user with information flexibly, depending on what the user currently needs. Not only the user interface is unique, but also the technology in the background.
Artificial intelligence is the ability of code to independently select and apply the appropriate algorithm from various machine learning algorithms. Guided Web calculates its answer based on the entire user input. We take the whole text and focus on the key messages that we relate to each other. This results in a significantly improved success rate.