An essential task of chatbots is to provide financial added value to the company and to earn money for the business. Where could they do this more clearly and measurably than in e-commerce?
The performance of the bots – indirectly in the form of purchase preparation or directly as the last contact before the Add2Cart and purchase – can be clearly measured. If required, also with sophisticated attribution logic, which you can also define and adapt yourself.
An e-commerce bot must be able to make it easier for users to find the right products for their needs. And with as few clicks as possible. After that, it's all about products, products, products.
Wait a minute! If it's only about finding products: what is the difference between an e-commerce bot and a conventional product search?
Good question! The bot has a memory, he understands the combination of several search criteria in one sentence, he can recommend suitable products, lead non-linear conversation and smartly lead the user back to the starting point if he is distracted by the product search.
Why you should work with us…
E-Commerce is King! We at agileGravity have e-commerce in our genes and build our bots the same way: with an unobtrusive focus on conversion, on a foundation of service, data and sophisticated usability.
We are on the way to having chatbots not only sell, but also accompany and advise customers. With our Guided Web approach, we are moving in the direction of smart consultants and inconspicuous companions.
… are not available here! We build individual chatbots that are tailored to our customers and their needs.
Why do we do that?
Because we have made the experience that customers are very individual. This is neither surprising, nor particularly new. Every customer has little standardized IT systems, which have to be mastered and into which the bot has to be integrated. As a rule, customers have neither the resources nor the know-how for in-house development and integration in-house. And customers are happy to hand over the entire topic of chatbots, including conception, development and operation, to a competent partner.
Our bots are like custom bikes: no two bots are alike. The result is YOUR BOT – tailor-made and with features that others don't have. We are the tuning workshop for your bot. There's nothing we can't do for you – as long as it has to do with data and we have access to your systems we'll find a way together.
You can expect from us that we dedicate all our passion, creativity and power to your project. We have an outstanding will to win and a focus on customer satisfaction. We do everything in our power to make the project a success. Let's talk about your ideas. You will be thrilled, we promise!
BandelBot – Facebook Chatbot
The Facebook Bot from Bandel Automobiltechnik is a product seller. We have created a chatbot for Bandel based on the Facebook Messenger, in which the user first selects his vehicle via the HSN/TSN number.  The user is then shown products that match his vehicle. The products can be placed in the shopping basket directly in the online shop and can also be purchased there. At the start of BandelBot there were almost 47,000 products in the database of the chatbot from which the user could choose.
We have put together a short video to give you an overview of the functions. Otherwise you can find BandelBot in Facebook Messenger to try it out for yourself.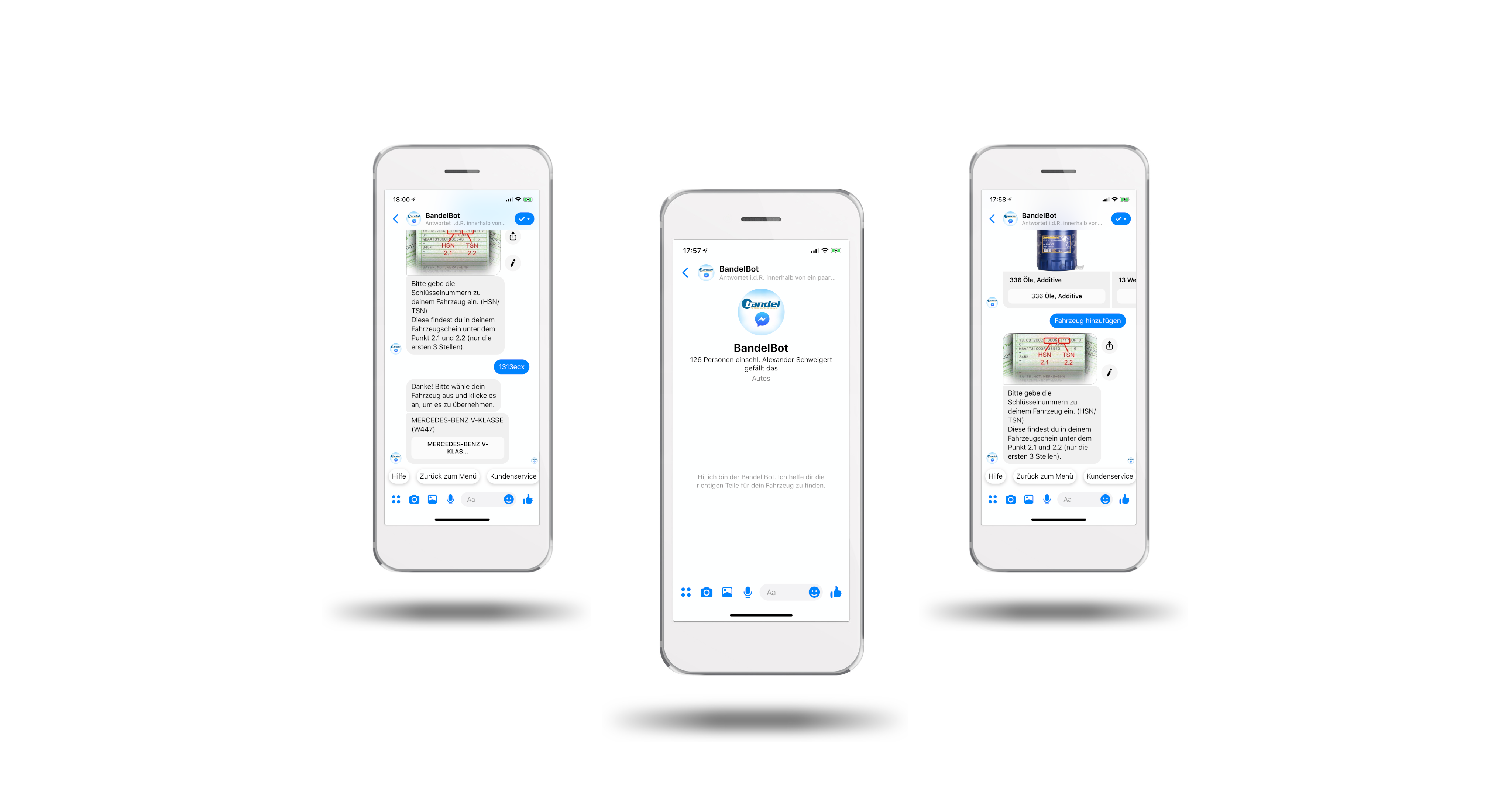 3
HSN/TSN Input successful: vehicle selection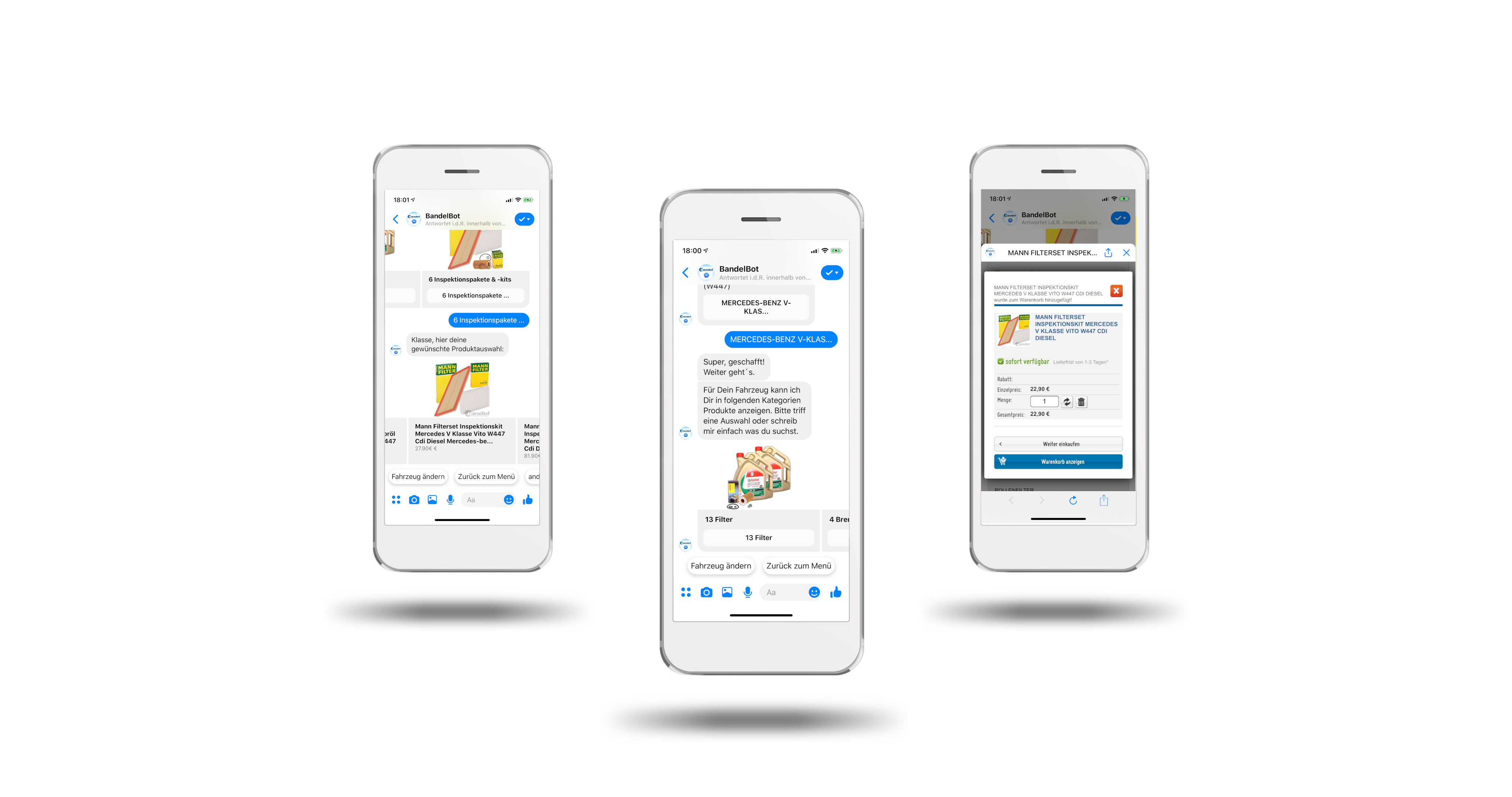 1
Product categories are displayed in wipeable tiles
2
From the category to the products
3
The product can be placed in the shopping cart and bought directly in Messenger.
BandelBot saves the customer's vehicle and allows quick access to the products during the subsequent search. It would be feasible that the user could configure and create several vehicles and then select the vehicle before searching. In a further stage of expansion, the full Bandel product range could be integrated in order to offer the full product selection from the shop in Messenger as well.
Further features would be the free text search and the product search for different IDs. Also, a backend connection could be used to support e.g. orders and returns requests via BandelBot.
With BandelBot we have proven that an e-commerce chatbot on the Facebook Messenger channel is attractive for users.